Wedding Ceremony Musicians
Creating the right ambiance for your ceremony as your guests gather will set the tone for the rest of your wedding day, and we know how important it is to you to get it right. As specialist wedding suppliers, we've gotten together a list of musicians that we highly recommend so you can make planning your wedding and ticking off your checklist that much easier. See the list of trusted wedding professionals here and say "I do" with peace of mind.
Hazel Alexander – Violinist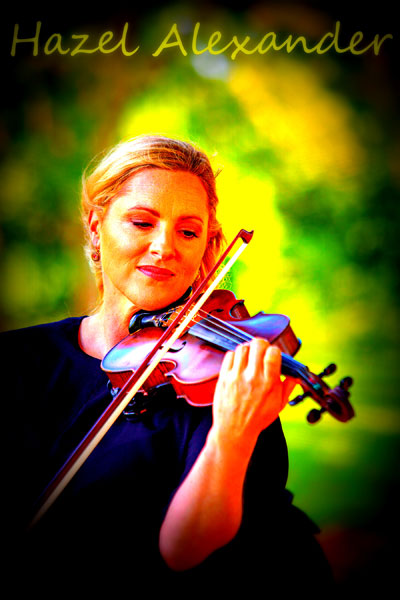 My name is Hazel Alexander. I am a classically trained Violinist with 20 years experience of performing at Wedding Ceremonies & pre-dinner Drinks Receptions. Music is my passion & I truly believe live music is a vital part of personalising your ceremony to create a unique & warm atmosphere that you & your guests will remember forever.
My extensive repertoire has grown from so many wonderful experiences in performing at all types of Weddings including Civil, Religious & Humanist Ceremonies. Specialising in working with couples directly, I will encourage you to choose music that is full of meaning to you both, this can be from any musical genre for example Classical music, popular songs, theme music/ songs & Traditional tunes. My repertoire is constantly expanding as I love learning new requests & enjoy arranging songs/music themes for Violin.
If you are feeling overwhelmed by such a varied choice of music I can send you suggestions & video samples that I feel will work with your theme/style of your Wedding Day, then we can work together to create your own unique Ceremony. I am based in Enfield, Co. Meath & travel nationwide.
Hazel was absolutely amazing! She really set the mood for our ceremony and put us both at ease when deciding on the set list for the day. She was super friendly and open to learning a new song for the day, playing us out of the chapel to the theme tune to Star Trek Voyager. We would both highly recommend Hazel for your own special day!"
– Sean and Lena –
(August 2020)
Hazel was an absolute pleasure to work with before & during our Wedding. With all the Covid challenges we faced, nothing was a problem for Hazel. She has an amazing talent. She specifically sourced a piece of music that wasn't in her repertoire & played it so beautifully.
I could listen to Hazel playing the violin all day long. Her violin playing added something special to our ceremony & all our guests thought she was amazing. We would highly recommend Hazel to work with & play all your special pieces of music for your wonderful day."
– Sally-Anne & Ross –
(October 2020)
So grateful that we had Hazel perform our wedding ceremony music on 1st Feb 2020 . From first point of contact to seeing her smile as she played us out of the church , everything was perfect . A pleasure to deal with from every email . I had chosen a non traditional bridal entrance song and Hazel had no problem coordinating this on violin specific for the occasion . Many thanks again Hazel & all the best in the future ! X"
– Natasha and John –
(February 2020)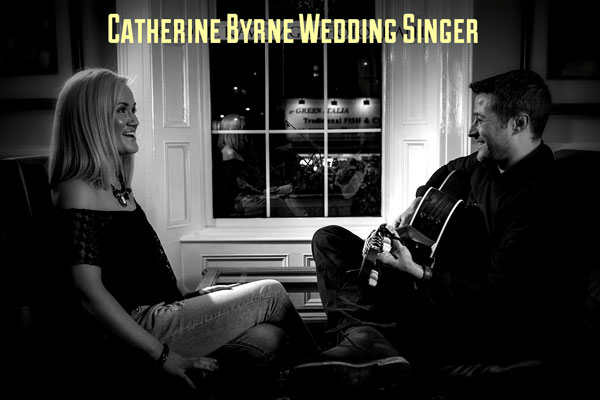 Catherine is a singer with years of experience & excels at weddings. She has a distinctive tone, which lends itself to different styles of music.
Catherine's main focus for 17 years now, has been singing at church services nationwide. She draws from an extensive repertoire & can cater for all tastes, from Ave Maria to the contemporary hits of today!
She has the perfect level of professionalism & experience needed to make sure every occasion runs smoothly & stress free.​
Catherine feels the right music can really set the perfect atmosphere for the couple getting married & their guests.​
"We cannot describe how happy we felt listening to Catherine, Finbar & Brian (violin & piano) perform on our wedding day. We actually had goose bumps listening to her sing the songs we had so carefully chosen for our service. We didn't have traditional music in the church so when I was walking up the aisle to my groom and I heard Catherine sing Emilie Sande/Labrinth "Beneath your beautiful", it was a magical moment I will never forget. We sat at the top of the altar and said "Wow" when she sang Kodaline "The One".
Finbar English & Brian Kennedy were a perfect accompaniment to Catherine. They played flawlessly. We had a sand ceremony during the service & asked for Forrest Gump "Feather theme" as an instrumental piece and it was played impeccably. All of our guests asked us who performed and how were we so lucky to find them. Catherine, they said your voice was so remarkable that they would love to sit there all day and listen to you.
You plan, hope and pay your wedding is going to be the most special day of your life-Catherine adds that extra magic to your ceremony that it becomes a surreal experience. We cannot recommend Catherine highly enough. She was pleasure to deal with at all times. She responded swiftly and professionally and nothing was too tasking. We had an unusual song choice for a church wedding and they delivered 200%. We wish her all the very best and urge you to book her for your wedding as you won't be disappointed, only sorry you couldn't listen to her more!"
– Sarah and Thomas –
Myself and my husband Chris would like to sincerely thank yourself and Brian for the wonderful music at our wedding ceremony. Your voice is truly incredible. It was amazing to hear you sing every song we had chosen for our day. You more than exceeded our expectations and made our day so special – even accommodating the priest to surprise us on the day with his wonderful voice.
You were so easy to deal with from start to finish and were so kind, you even called our priest to run through hymns and mass parts. I cannot imagine having anyone else sing at our wedding. Our priest. Fr. Michael Toomey was also full of praise for you after our ceremony. You are a truly kind and wonderful person even taking time outside to meet and talk with us after the ceremony.
Our guests were raving about your beautiful voice all day. I cannot recommend you enough. Thank you for being part of our special day. All our love and thanks"
– Jacqui & Chris –
Hi Catherine, I just wanted to thank you so much for the amazing music and singing you provided at our wedding on Friday last (3rd July). I really couldn't have asked for more.
From our first conversation you put me so at ease and were fantastic to work with. And on the day itself the music sounded perfect. All our guests are still talking about how wonderful our ceremony was and your singing greatly enhanced it.
You even brought a tear to my eye!!! Thanks again, I will be recommending you lots. It has been such a pleasure to know you and have you part of our perfect day."
– Ciara and Shaun Xx –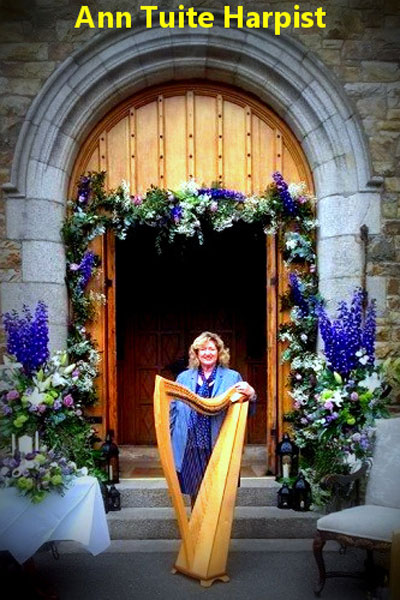 From Áras an Uactarain to Dublin Castle, Saint James Palace to Luttrellstown Castle, Ann Tuite has performed far & wide! Entertaining Presidents, Prime Ministers & several other dignitaries both nationally & internationally, not too mention, many, many happy wedding couples & their guests too!!
Ann is a classically trained harpist ('All-Ireland'), singer & pianist. The traditional melodies & airs that she plays are unobtrusive & they set the perfect mood for all occasions, creating an enchanting mystical atmosphere.
Bringing a sense of calm & serenity to the day, Ann would be delighted to travel nationwide for your blessing, church ceremony, civil ceremony, drinks reception, wedding breakfast, corporate event or any special occasion.
"David and I would like to thank you for making our ceremony so special and everyone remarked on how beautiful your harp/singing was. Thank you so much for going to the trouble of learning our songs and making the ceremony so special and memorable for us."
– David & Anne Marie –
I would highly recommend Ann to sing & play the harp . She was extremely easy to deal with & helped with her experience & expertise & all my guests along with ourselves thought the music she played from the harp was beautiful not to mention her singing which was gorgeous."
– Michelle –