Of all the choices you have to make (after your partner of course!) for your wedding, the venue is perhaps the largest. Make sure you get the venue of your dreams with this amazing and enchanting wedding venue. Find your perfect wedding venue today and make planning the rest of your perfect wedding easy. As expert and professional wedding suppliers, we take pride in partnering with and recommending only the best for your special day.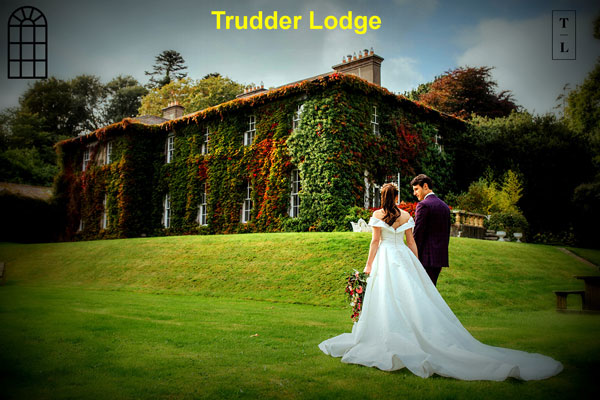 Trudder Lodge in County Wicklow, is a unique & a beautiful venue. It is a magnificent example of a 19th century country house in Georgian Palladium style built on approximately 10 acres of garden. This Georgian Lodge was built in circa 1835 & is set in a large mature woodland garden. Every wedding at Trudder Lodge is utterly bespoke & to maintain exclusivity we accommodate no more than 1 wedding per week, with a maximum of just 15 weddings per year between April & October. Our maximum capacity is 140 people.
​Unburdened by the restraints of hotel catering & décor, celebrations at Trudder Lodge are utterly bespoke so that your wedding weekend can be exactly what you want it to be. You can choose a caterer from a panel, enlist your talented Aunt to gild the courtyard marquee, drape ribbons from the marquee ceiling & serve pink champagne to all assembled. Trudder Lodge has seen extravagant white weddings, celebrations in riotous colour, suave garden parties and festivals that span a spectrum of cultures & traditions.
​​Your creativity is not curtailed to just the reception. At Trudder Lodge you can choose to have your wedding celebration anywhere on the grounds, be that on the rolling lawn, in the walled garden or under your favourite tree.
Just wanted to say thank you so so much to everyone at Trudder for making Friday 6th the most unbelievable day!" 
– C&C –
A quick note to say thank you so much for all your amazing work on the weekend of our wedding. From the first moment we were in touch, everything was an absolute pleasure. The whole weekend was magical!" 
– C+G –
As soon as I saw the venue I knew it was the place, it is just everything and to have a pair like you organising it all…. I have no words it was just a Dream!" 
– L&B –