You'll want to remember your wedding day forever and with the right wedding videographer, you can go a step further and relive your special day whenever you like. Find the perfect wedding videographer for you here and immortalise your wedding day forever. As expert and professional wedding suppliers, we take pride in partnering with and recommending only the best for your special day.
Michael Hurley Wedding Films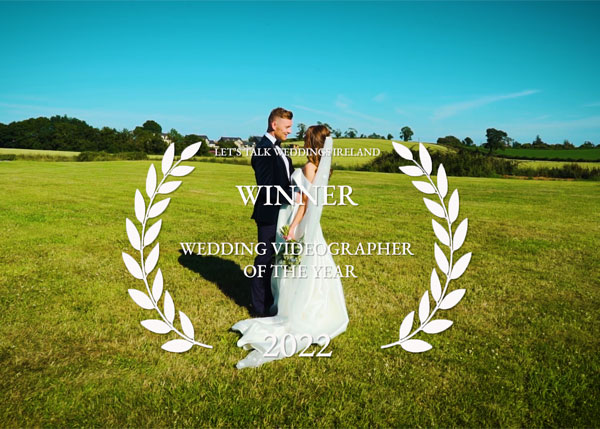 Recently voted Wedding Videographer of the Year, I'm an award-winning Waterford wedding videographer who specialises in capturing those perfect moments. I create emotional and powerful, story-driven wedding films, and regularly work with some of the biggest wedding venues in Ireland.
​I aim to make your experience with me both fun and professional, and give you peace of mind knowing you have a real professional to capture your wedding day.
​​I provide wedding videography services throughout Ireland's south east, including Waterford, Cork, and Kilkenny. Limited 2023 dates available so get in touch with me ASAP.
Michael was a fantastic wedding videographer on our wedding day! He was professional and courteous, and gave us an amazing wedding video that we can look back on for years to come. It's great to be able to share it with friends and family who weren't able to be there on the day. Thank you Michael!"
– Natalie –
If you are considering hiring Michael I'd say go for it!! You will not regret it. Highly recommend Michael's services!! We had a big country house 3 day wedding in Devon and Michael managed to capture the spirit of the whole event down to a T!!! The video was of excellent quality, and so thoughtful and personally tailored to us. It has brought a tear to everyone's eye watching it captured all over again. It is a beautiful memory to have of your special day for the rest of your lives!!"
– Emma –
Absolutely amazing wedding video service start to finish. Michael tailored everything to our needs and you'd barely even have known he was there on the big day. He captured our preparation, service, afternoon, speeches, meal and dancing and also provided a digital and personalised hard copy which topped everything off. Couldn't recommend his service more"
– Andy –
Noel Bernes Videography & Photography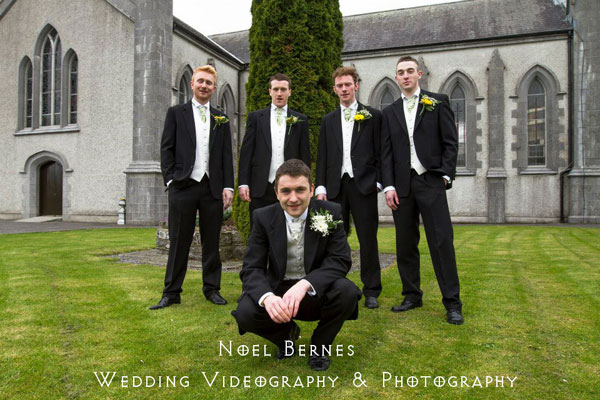 I am a professional portrait photographer & wedding videographer. Originally from Dublin though now based in Laois, where I live with my wife & family. My landscapes were exhibited at The Kilkenny Arts Festival for three years back to back & proved a great success.
​Being the nominated photographer at countless family weddings & constantly being told I should be a professional! In 2008, I decided to turn my passion into my full time career! So I jumped into several courses in wedding & portraiture photography & earned a number of distinctions.
I work from my studio in Shanderry, Coolrain, which means I am in an ideal location to travel nationwide for wedding shoots. My top priorities are to supply outstanding value for money & the highest quality possible!
Thank you so much to Noel for our fantastic wedding photos which we received today. You captured our day perfectly. We love them all!"
– Róisín O' Shea –
It was an absolute pleasure having Noel photograph our wedding on June 24th 2016. He was courteous and polite, and kept our families laughing throughout the day! We were blown away by the natural and candid moments he captured in the photographs. The collection of photographs that we received encapsulates our Wedding Day and the special memories we now have forever! Thank you Noel for your help in planning for the photographs, and for being an amazingly calm person on the big day." 
– Alexandra Crampton –
I would like to say a huge thank you to Noel for our weeding video. I loved every minute of it and it is something we will always have to look back on. We weren't at the start going to get a wedding video but I am definitely delighted now we got Noel. Would highly recommend Noel, was a pleasure to deal with and very helpful." 
– Sinead & Michael –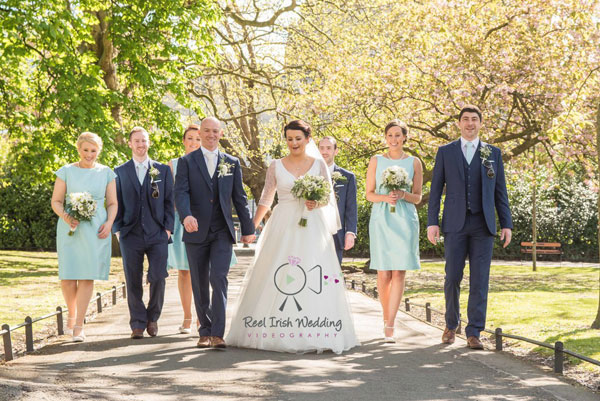 Reel Irish Wedding is run by Derek Lawless, an experienced wedding videographer of 10 years. I strive to offer the finest Wedding Videography service in Ireland. My wedding film making is completely discreet & unobtrusive. All Wedding Videography packages are filmed using the latest small, silent cameras, no complicated rigs or big fluffy microphones!
On the wedding day, I work completely low-key to capture lots of fun & candid moments as discreetly as possible, so you & your guests feel comfortable & at ease. You want your wedding to be captured, but not feel like it's being interrupted. So I'll dress the part & I'll blend in, there's no direction, posing or cameras pointed in faces. My mission is to provide the highest possible quality at the right price.
I am your ideal Wedding Videographer if you are planning your wedding in Carlow, Dublin, Kildare, Kilkenny, Laois, Longford, Louth, Meath, Offaly, Westmeath, Wexford or Wicklow. Please get in touch to discuss our Full Videography & Photography Service.
Derek thanks so much for our Wedding DVD, we really loved it. Its the little things that matter & the attention to detail was absolutely fantastic! We really can't thank you enough :)"
– Linda & Stephen Biggins (Dublin & Offaly) –
Hi Derek, thank you very much for sending the DVDs of the wedding, I was delighted when I seen them. You did a brilliant job, Neil & I were delighted with them, it was great watching our wedding day again you forget so much as it goes so quick. Thanks again & have no problem recommending you, your work was brilliant."
– Michelle & Neil Winter (Dublin) –
Hi Derek, We are absolutely thrilled with our Wedding DVD thank you so much, you were so professional, we couldn't have asked for more. I will certainly be recommending you in the future. All the best"
– Agnes & Ian Doyle (Kildare & Carlow) –
Contact Reel Irish Wedding