Wedding Invitations & Stationery
Matching your wedding Invitations and stationery with the decor for your wedding is a beautiful detail, and helps your guests know the kind of tone you're setting for your special day. As expert and professional wedding suppliers, we take pride in partnering with and recommending only the best for your special day.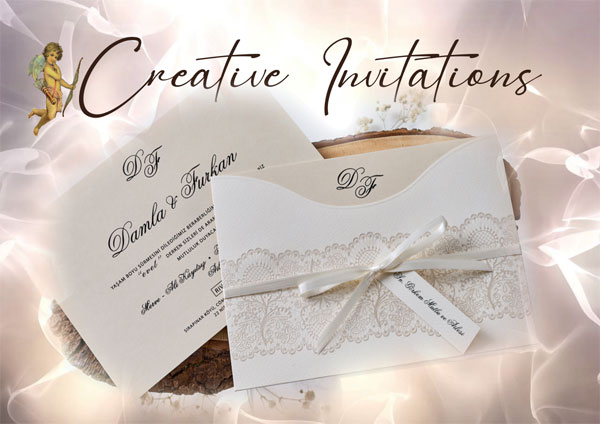 Here at Creative Invitations we believe that the style of your Wedding Invitations will set the tone for your amazing Wedding. Our super stylish stationery can be perfectly tailored to your wedding's theme. Of course classy is best for traditional affairs but if you're planning a more casual day, you have scope to be more inventive with your invitations!
There is bound to be the perfect product for you in our huge range of over 400 wedding invitations. One of our design team can create a stunning bespoke package for you, personalized to your needs so that they reflect your weddings personality on the big day. Whether you are after a vintage design, modern classic or a little more contemporary, or even if your theme is a Beach Wedding! Creative designs can do it all.
Heading abroad? Black tie event? Or a small intimate affair. What about a Casual BBQ Style Wedding Day? Yes, we can help, right here in our Dublin Showroom or if you cant make it into our showroom we can communicate online, through Whatsapp or by email one of our team will be happy to help!
What can I say, this is a fantastic all rounder company, so delightful to deal with, the different options are unreal. Quality is fab & the cost of everything is so so reasonable, so thrilled I have used this wedding supplier, I couldn't have asked for better. Marissa thank you for everything, you're a star & make everything so easy, thank you."
– Ann Marie Masterson –
Marisa!!!! What can I say first of all thank u so much for picking me as your competition winner, I was given the choice of ANY of your beautiful invitations. As you know it wasn't an easy task with so many to choose
from!! Your hard work and professionalism is simply next to none.. You really do have any invites for any theme or budget.. anyone looking for invites please visit Marisa she is amazing and such a lovely woman.. thanks again Marisa"
– Ciara –
Just received my invitations and absolutely love them! I got the 100 invitation
deal and these invitations look so pretty and classy for the price I got them for, so I definitely recommend. She was very sweet to help me get the invitations, as I needed three different versions with their own wording and she was happy to do that. Xx Thank you Marisa!"
– Mehvish –
Contact Creative Invitations